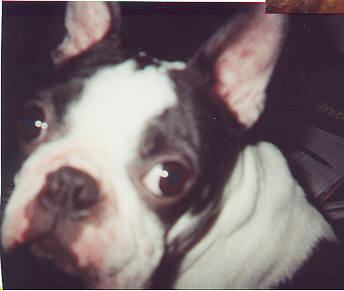 Poder
Drama queen, diva, princess, baby girl, Poo-poo, whatever you call her, no one can deny Poder is a force to be reckoned. Whether she's onstage or off she brings her own unique flair to everything she does. As the founding member of the band, she can be demanding but with literally dozens of record sales under her belt you just have to put up with her sometimes bullish ways.
Poder lives in the Four Oaks area, in a posh house. She's currently dating Barney of Mema's Dogs, and loves to have sleepovers with Barney and his sister, Poder's bestfriend, Bea. She loves her Shoney Bear, treats, new people, and that funny part of Big and Rich's cd.
The Poderettes
Shadow, Bear, and Brownie make up the Poderettes. Brownie and Bear share back-up vocals, and occasionally lead vocals, and Shadow plays bass guitar and sometimes helps out on the keys. They came aboard the Poder train three years ago and have since formed a sometimes contentious but lovely relationship with bandleader Poder.
Shadow is the single mother of two, Bear and Brownie. She enjoys long runs through the bean field, beating up Sadie, burying her treats, and barking her displeasure.
Bear is single and loving it. He enjoys an especially close relationship with his sister, the only girl he needs in his life. He enjoys being pretty, sassying off, playing soccer, long pees in the afternoon, and digging holes.
Brownie is scared of all strangers and hopes that whoever is reading stays away from her. She enjoys hiding from the aforementioned strangers, chewing on anything she can find, play fighting with her brother and mother, and licking.